Nov.27 2009
by Mike Hankey, under Comets & Meteors
A Russian astronomer sent out a notice about a newly discovered nova and requested images of Orion between Nov 16th and Nov 19th. Turns out I have 4 pictures of Orion from Nov 17th and the nova was captured in my images! I will post an update with the Orion Nova picture once I have more info and have been able to successfully identify the nova.
While reviewing my meteor shower pictures I found an image of a faint meteor I had originally missed. I haven't plotted the picture in a star chart yet, so I'm not sure if this is a sporadic meteor or a Leonid. So it turns out I caught at least 2 meteors during the recent Leonid shower, bringing my total meteor picture count up to three.

The above image is a crop out of the big picture. Here's what the full image looked like.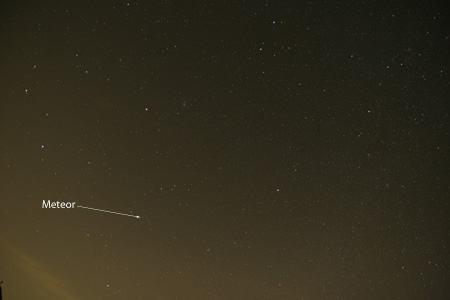 :
Meteor Photos